Holiday travel: Airport survival guide
The crowds. The lines. The security and scanning. The sprint to the gate. All of it can overwhelm air travelers — especially during the holiday rush — but it doesn't have to be that way.
And as security measures continue to ramp up, with pat-downs and new scans, navigating overbooked, overflowing airports just got a bit more dicey. We asked travel experts to provide tips to make the airport experience a smooth one, especially if you haven't flown since last holiday season. But first, be aware that you'll have lots of company in your quest to share a turkey dinner with relatives.
It's estimated that 42.2 million people will travel at least 50 miles from home for Thanksgiving, according to AAA and IHS Global Insight. That's an 11 percent increase from last year, when 37.9 million people traveled during the holiday. And about 24 million people will be crammed into airplanes, a 3.5 percent increase over last year, according to the Air Transport Association of America, which represents som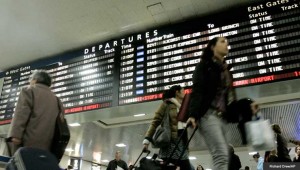 e of the nation's biggest airlines.
The busiest travel day is expected to be the Sunday after Thanksgiving, followed by the Monday after the holiday, the ATA said. The Friday before Thanksgiving week and the Wednesday before the holiday will be the other peak travel days.
The least busy travel day? The holiday itself: Thursday, November 25.
No matter what day you fly, here are five tips to survive the airport this holiday season.
1. Hit the web before you head for the airport
Let modern technology save you some hassles and maybe even some money. Check in online up to 24 hours before your flight is scheduled to leave, and print your boarding pass at home.
"This allows you to secure your seat assignment, double-check for any schedule changes … and decrease your chances of getting bumped if your flight is oversold," said Genevieve Shaw Brown, senior editor at Travelocity.
New since the holidays last year: More carriers now allow you to check in from your smartphone and use a digital bar code on the screen to pass through the airport. If you're using this option, save the bar code as a photo on your device, which will make it much easier to retrieve at security and at the gate, advised Bryan Saltzburg, general manager of TripAdvisor Flights.
If you're checking bags, many airlines have raised their fees this year, but some offer discounts if you prepay during the online check-in. Delta, Continental and US Airways, for example, take $2 off the first bag and $3 off the second if you pay online when you check in for your flight on the carrier's website.
"Know before you go," Saltzburg said. "There are fees, and it's important to educate yourself and be prepared and handle as much of the check-in process before you actually get to the airport." He recommended the ultimate airline fee guide on SmarterTravel.com to get a clear picture of any extra charges you might pay.
2. Pack light
Avoid checked-bag fees altogether by bringing carry-on luggage only. (Be sure to check with your carrier on the maximum size of bags allowed in the overhead bins.) You can head straight for the security line when you arrive at the airport and skip the baggage carousel after your flight lands at your destination.
New since the holidays last year: Spirit Airlines now charges a fee for carry-ons that passengers place in the overhead bins. (Each traveler can still bring one personal item that fits under a seat for free, such as a purse or briefcase.) Every other airline allows one piece of luggage and one personal item to be carried on for free by every ticketed passenger, Brown said.
3. Give yourself plenty of time
TripAdvisor recommends getting to the airport at least two hours before your scheduled departure for a domestic flight and three hours before an international trip, Saltzburg said. It's especially important to get to the airport early during the Thanksgiving and Christmas travel rush, because the many inexperienced fliers and families with children who are venturing out during the holidays will probably slow down the security process.
New since the holidays last year: Beefed-up screening means that lines may be moving more sluggishly. "Body scanners and additional pat-downs are the norm these days, leave extra time to get through security," Brown said.
4. Prepare for the security line
There's no avoiding your encounter with Transportation Security Administration agents, and there's tension in the air as hundreds of travelers grab bins and shuffle through with their belongings.
"The one place you'll tend to have to queue is going to be at airport security, and it's probably your most stressful part of the trip," Saltzburg said. You can't speed up the line, but you can do your part to prevent slowing it down. Here are some basic tips:
Have your boarding pass and ID easily available.
Remove your shoes. ("Slip-on shoes should make going through security much faster," Saltzburg advised.)
Make sure all of your liquids are in a zip-top plastic bag that's kept separate from your carry-on bag and adheres to the 3-1-1 rule: Fliers are limited to 3-ounce or smaller containers of liquids or gels, that can fit in a one-quart-size clear plastic zip-top bag; one bag per passenger.
Send coats and jackets through the X-ray machine.
Take any items that might set off the metal detector — like keys, loose change and heavy jewelry — out of your pockets.
Don't wrap any gifts. If security officers need to inspect a package, they may have to unwrap it. If traveling with food, check the TSA's list of items that should be checked or shipped ahead.
5. Plan for flight delays
Don't expect all of your Thanksgiving travel plans to happen without a hitch, Orbitz.com advised. Prepare for the worst, hope for the best, and if you have connecting flights, build buffers into your itinerary so that one disruption won't jeopardize your entire trip. "Keep any medication you need and something to keep you busy in your carry-on bags," Brown said.
Saltzburg, who flies several times a week, said he depends on noise-canceling headphones to provide him with moments of Zen. "I put my headset on, and it tunes out the world around me," he said.
Safe Travels.
This article was written by A. Pawlowski, CNN

Incoming search terms: