Posted in
Electronics
,
Travel
on April 20th, 2021 by –
17 Comments
While electronic gadgets were created for convenience and entertainment, sometimes they can be frustrating at places like airport security checkpoints. This is an alert for our tech junkies with gadgets like laptops, laptop accessories, MP3 players, iPod, pager, cell phone, Kindle, video game consoles, video cameras, DVD players and much, much more.
I can completely understand the fun in listening to your favorite music, watching a movie filled with humor, or playing a thrilling game that makes time fly while on a plane. However, the TSA says Pay now, Play later. If we follow the TSA rules, we can have a fun enjoyable flight. All we need to do as travelers is pay attention to their rules especially for the electronic gadgets and it will make our security process smooth and neat.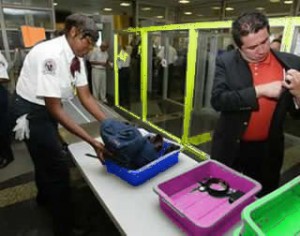 Few quick gadget security tips:
Simplify…have only the electronic gadgets, which are crucial on your journey. This can quickly add up though between your laptop, phone, iPod, GPS and Kindle.  Besides the laptop and dvd player, many of your electronics can stay stored in your carry-on while passing through security – even your Kindle!  TSA prefers that you put most of your electronics in your carry-on as it makes it easier to screen the devices.  I once was pulled aside in security for an iPod docking station (last minute purchase).  I didn't even think it was something that would be a concern…but it was!
Most corporate travelers have their laptops in their carry-on luggage. The best thing to do is to have laptops in checkpoint friendly bags. For more information on the styles, visit http://tinyurl.com/358hojk .  The seasoned business traveler has this process down to a science.  It really is important though for the average traveler to keep all the electronics organized.  Mini, convenient packing cubes are perfect for packing cords and small electronics.
Don't be surprised if you are requested to switch off all your battery-powered devices. While packing your carry-ons, make sure the electronic gadgets are organized to make the screening process easier. If not, your bags have to undergo additional screening process, which would be more time consuming.
Every airport within U.S and international airports have similar regulations for electronic gadgets. If you are planning for a domestic or international travel, it is highly recommended to check the electronic regulations for the country.  You wouldn't want your favorite gadget to end up in the hands of TSA in another country…never to be seen again!
What is the ONE gadget you can't stand to travel without?  Have you ever had electronics confiscated?  Please share your gadget drama.
BottleWise is committed to manufacturing high-quality bags that make life easier for the discriminating culinary traveler and is founded by Amy Dias (adias@bottlewise.com).